Review
Album review: A fond, Czech-accented farewell from the Tokyo String Quartet By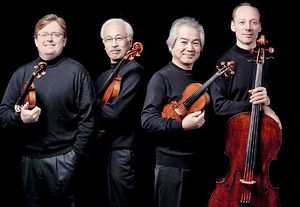 The Tokyo String Quartet says goodbye to Toronto this week as the fabled foursome wends its way to dissolution at the end of the season. The occasion also marks the release on Harmonia Mundi of their final album, featuring favourite Quartets of Antonin Dvorák and Bedrich Smetana.
It seems strange that the final album is something that's been sitting on a shelf for seven years, because most of it nicely shows off the impeccable teamwork of violinists Martin Beaver, Kikuei Ikeda, violist Kazuhide Isomura and cellist Clive Greensmith
The Dvorák work comes off impeccably. It's the String Quartet No. 12, known as the "American," for its genesis during the composer's visit with the Czech immigrants in Spillville, Iowa during the summer of 1893.
It's a gorgeous work that reflects Dvorák's roots especially well, perhaps because distance always brings focus to very personal things. The Tokyo manages to capture the music with power as well as lyricism. There is never any excess extroversion, nor does the music sound bland.
It's a fine balance that's amazingly difficult to find.
Smetana is represented by his first String Quartet, "From My Life," from 1876, which is filled with roiling, intensely personal emotional expression — including representations of the tinnitus that had ruined the composer's hearing two years previously.
The players put so much pressure on their bows that it distorts the sound in the second-movement Polka. I'm sure it's intentional, but the result sound like they are having occasional intonation problems.
But once again, the overall approach to the piece is beautifully balanced, with the four playing as if they are one.
Ultimately, this late-Romantic, overtly emotional music is a mighty fine way for this quartet to close its glorious 44-year history.
The official release date for this album is in May, but it will be available in Toronto for the concerts. You can check with Atelier Grigorian at 416-922-6477.
Here is the Tokyo — from back when Toronto Symphony Orchestra music director Peter Oundjian was first violin — playing the second movement from the Dvorák Quartet:
John Terauds

Musical Toronto