Review
Review: Montrose Trio makes rewarding area debut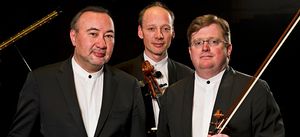 Forming and maintaining any chamber music group is fraught with difficulties. As Bernard Greenhouse, cellist of the iconic Beaux Arts Trio, once said of his group, "We have all of the disadvantages of a marriage with none of the advantages." Piano trios come and go at a higher rate than other groups, partly because — unlike a string quartet — good musicians can throw a program together competently on two or three rehearsals. So my enthusiasm for the Montrose Trio, an exceptionally fine newcomer on the scene who made their area debut last Friday at the Barns at Wolf Trap, is tempered with wariness; what if they love us and leave us?
Canadian violinist Martin Beaver and British cellist Clive Greensmith played together for eleven years in the world-famous Tokyo Quartet, which disbanded in 2013. Both now teach at the Colburn Conservatory in Los Angeles, and they have teamed up with the Canadian pianist Jon Kimura Parker (based in Houston), who's had a distinguished career as soloist and chamber musician. Their performance delivered absolutely top-notch music-making, as fine as one could ever expect to hear. In works of Beethoven, Turina, and Tchaikovsky, the group made a forceful statement, with loads of personality and nearly perfect technical finish.
Parker is a virtuoso, but he completely understands the balance problems inherent in the medium, and never once did his sound cover the strings, even with the lid of the piano fully raised. There were times in the Beethoven (Op. 1 No. 1) when the line was perhaps even a little too dry – the piano not singing the way it once did for the Beaux Arts' Menahem Pressler – but the musical clarity and detail made up for it. In the third variation from the Tchaikovsky Trio, his virtuosity was thrilling; he not only mastered the careening arpeggios, but "played" with them, creating imaginative little musical gestures.
The two string players displayed similar mastery, and operated on the highest possible musical level; gorgeous sound from each and phrasing as one, but seeming also to feed off each other's energy in performance. Intonation-wise, there is still room for improvement – the very first notes of the concert did not match perfectly, and things drifted in a few fortissimo passages in the Tchaikovsky – but this was a rare blemish on otherwise superb playing.
The Montrose has many engagements in upcoming seasons, and on the evidence of Friday's performance they are poised to become one of the top piano trios in the world, should they commit themselves fully to the endeavor. Fingers crossed!
Robert Battey

The Washington Post