Review
Bohemia in Bloom @ Chamber Music Society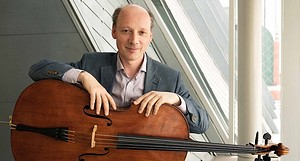 Sunday October 22nd, 2017 - This program offered by Chamber Music Society of Lincoln Center of works by three Czech composers got off to a dazzling start with music by Josef Suk, with whose music I'd had little previous connection. Suk's Piano Quartet in A minor was his opus #1; he dedicated it to his teacher, Antonin Dvorák.
Hearing this quartet tonight was an experience I would have described in the 1960s as "mind-blowing". The Suk also provided us with an introduction to a remarkable cellist, Clive Greensmith. For fourteen years the cellist of the Tokyo String Quartet, Mr. Greensmith is now a chamber/symphonic soloist and a member of the Montrose Trio. As the applause for this evening's opening Suk quartet commenced, my companion and I turned to one another and said, "The cellist!" We'll be looking for any opportunity to hear him again.
Composed in 1891, Josef Suk's piano quartet simply brims over with glorious melody and rhythmic vitality. He writes beautifully for all four instruments, giving each voice ample opportunity to shine forth. Mr. Greensmith, in his first CMS appearance, found himself in the elite company of some of our favorite CMS personalities.
From the very opening, with the strings playing a unison theme from which Danbi Um's violin takes flight, we are drawn into this music. Gloria Chien at the Steinway brings the tempo down a bit and a flow of melodies commences which will carry us thru the first two movements, evoking spine-tingling sensations thru their heart-on-sleeve beauty. The passion of the music rises and falls, building to grand themes and then subsiding to provide solo opportunities for the players.
Yura Lee (above), always so very welcome among the Society's many peerless artists, gives her customary dusky glow to the viola passages, and Mr. Greensmith's cello is thrilling in both its uncanny resonance and immaculate finesse. Playing together in their deeper range, our three string soloists produced a rich texture that gave the impression of a full string orchestra in play. A passage of soul-filling passion brings the first movement to an end.
Extraordinary softness of touch from Gloria Chien's keyboard lures us into the central Adagio. Then Mr. Greensmith commenced a cello theme of incredible richness: heavenly playing. Ms. Um's elegant violin sails sweet and high, and then Ms. Lee joins her string colleagues in an assault on the emotions: "These Players!" is all I wrote.
But Suk, in this Adagio, has still more to offer us: for Mr. Greensmith's cello again plunges to the depths. By this point I'm literally entranced. Briefly the music seems to sparkle from the piano and high violin, and then a splendidly rhapsodic feeling takes over. Where one might expect this music to finish with a final grand gesture, it instead goes into a long fade-away and vanishes into thin air.
Ms. Chien is superb in the quartet's closing Allegro con fuoco, which is at times scherzo-like in feeling. The pianist plays inventive bridges between solo passages for the three string players. An almost militant feeling develops, only to give way to more tender feelings - expressively played by our quartet - before reaching a joyous close. This performance of the Suk will be held high on my list of magical experiences at Chamber Music Society.
Antonin Dvořák's first piano quintet, opus 5, was originally performed at Prague in 1872. The composer was not pleased with the work and withdrew it. Fifteen years later, he re-worked the quintet but again was unhappy with it; and so it was that his opus 5 piano quintet was never performed during Dvořák's lifetime. A manuscript of the 1887 revision was found following World War I and was performed by students at the Prague Conservatory on March 29th, 1922. The score was finally published until 1959.
Much as I love Dvořák's music in general, I must say that he was perhaps correct in thinking this particular work doesn't show him at his best. It's very attractive music, to be sure, and it goes without saying that it was played to perfection this evening. But somehow it reaches the heart only sporadically.
Michael Brown at the Steinway opens the quintet, with Mr. Greensmith's cello passage leading into an appealing violin melody played over a courtly string figure. The tempo slows, then rekindles itself; limpid piano phrases develop into a big tutti finale for the first movement.
Mr. Brown's playing was so clear and thoughtful in the sad and somewhat hesitant piano solo that begins the Andante sostenuto. Danbi Um offers an achingly lovely violin solo; the music gets dense and then Danbi and Clive Greensmith trade phrases...like silk and velvet respectively. Mr. Brown's playing here is truly exquisite, and Ms. Lee took every opportunity to let her viola sound forth. Ms. Um's violin makes a soft ascent to a quiet ending.
The final movement begins agitato, with Mr. Brown running off a jaunty piano bit before all join in. The piano is in fact quite prominent throughout this Allegro con brio: from a quaint tune to an almost "toy" piano moment, Mr. Brown has it all superbly in hand. Thru numerous modulations, the music reaches an ebullient end.
Following the interval, Alexander Sitkovetsky took the lead in the Smetana G-minor Piano Trio, the opening passages of which provided a perfect showcase for the violinist's passionate playing. Mr. Greensmith introduces a somewhat sunnier theme, and Mr. Sitkovetsky's violin soars to the heights. Pulsing energy and a big sweep give way to another flight from the violin. Things get rather turbulent, calmed by Ms. Chien's fluent piano solo. A grandiose buildup collapses into a swift end.
The second movement starts out quiet yet lively, with a unison passage. A violin interlude, played lovingly by Mr. Sitkovetsky, is lyrical; then the music turns weightier, with a slow, almost trudging beat. A dancelike feeling emerges, and moves on to an unexpectedly sudden finish.
The Presto finale opens in a state of near madness, quite a scrambling feeling. Ms. Chien's piano has a sense of urgency, then she plays single notes in succession to mark a quietening. An affecting cello theme is taken up by the violin. Lovely melodies, over rippling piano figures, vanish in another burst of forward motion; then the tender cello theme is heard once again, with the piano blending, and a really fine, pensive solo bit from the Steinway. The strings sing out, only to give way to a dirge-like passage. But the music rebounds with vitality, Mr. Sitkovetsky's violin rising in triumph. All seems about to end well, but Smetana briefly lets a cloud creep by before it's dispelled by a brisk three-bar fortissimo.
After joining in the standing ovation that greeted the players at the end, my friend Adi and I found ourselves discussing yet again how fulfilling these CMS concerts are, and how wonderful the music always sounds in Alice Tully's house.
The Repertory:
Suk Quartet in A minor for Piano, Violin, Viola, and Cello, Op. 1 (1891)
Dvořák Quintet in A major for Piano, Two Violins, Viola, and Cello, Op. 5 (1872)
Smetana Trio in G minor for Piano, Violin, and Cello, Op. 15 (1855, rev. 1857)
Oberon

Oberon's Grove